For in-depth informationon these programs of study, see our catalog on the field of study desired:
Welcome to Breakthrough Bible College
& Theological Seminary
Although most who visit this website are already students preparing for the ministry at Breakthrough Bible College & Theological Seminary (BBC&TS ), there are many who happened across this website while surfing the worldwide web for key words that happen to be used on this site. For those who are unfamiliar with BBC&TS, we offer this page to welcome you to this site and to introduce you to BBC&TS and it's founder: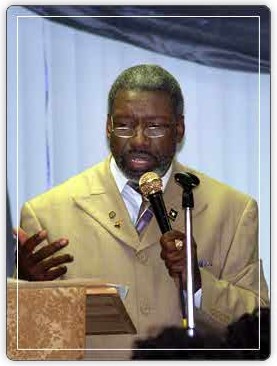 Breakthrough Bible College & Theological Seminary was founded in 2000 with the first classes commencing in June 2002. by Dr. Anthony T. Mays, a renowned author and scholar who has served in many administrative and faculty positions at colleges and universities in Germany, Georgia, North Carolina, Washington DC, and Maryland, is the founder and president of BBC&TS. God revealed to Dr. Mays more than 20 years before it came about His desire to start BBC&TS to prepare people called to serve in various aspects of the ministry. Since the doors of BBC&TS were first opened, thousands of students across the nation and around the world have been served by this righteous endeavor. Originally from Youngstown, Ohio, Dr. Mays resides in the Washington DC metropolitan area.
Dr. Mays is a highly decorated retired military commander, having served more than 26 years in the Army. He served in combat theaters of operations spanning the Vietnam to Operation Desert Storm in Iraq.
Dr. Mays has earned a Bachelor of Science in Political Science and a Master of Business Administration. He went on to earn several doctorate degrees, including a Ph.D. in Education, a Doctor of Divinity, a Doctor of Ministry, and a Doctor of Humane Letters. Some of the books that he has authored include "Knowing Your Place in the Ministry," "Power in the Pulpit Using the ATM Method," "Rekindling the Fire in Your Relationship," "Leave, Cleave, and Become One," "Harvest the Financial Breakthrough with the Mays Method," and "How to Cope with Things You Can't Change".
Most importantly, Dr. Mays became a dedicated Christian at a very early age and even began preaching at the young age of seven. He has served Bishop of the Faith Deliverance Pentecostal Ministries for twelve years, a ministry that consisted of 78 churches. He has served for more than a decade as the Apostle over the Faith Deliverance Breakthrough Ministries Worldwide. This Ministry consists of 365 churches across the nation, as well as in India, Germany and other locations in Europe, Africa, Costa Rica, Panama, and El Salvador.
Dr. Mays founded BBC&TS on the precepts that Education is Power; Power is Success; and Success is Victory. The Bible is clear in 2 Timothy 2: 15 where the Lord instructs us to "Study to show thyself approved, a workman that needth not be ashamed, rightly dividing the word of truth."
BBC&TS 's staff is exceptionally knowledgeable, professional and skillful in biblical studies providing diverse opportunities to meet the needs of Christian leaders. BBC&TS 's goal is to be one of God's leading Evangelical Bible Universities. In keeping with the BBC&TS historical roots BBC&TS is committed to the spirit of Excellence. As you will see throughout this site, God has truly blessed BBC&TS with progress toward achieving this goal, not with the intent of seeking the praise and adoration of mankind, but to prepare as many as possible to serve the Lord as we press forward to fulfill the Great Commission: "Go, therefore, and make disciples of all nations, baptizing them in the name of the Father and of the Son and of the Holy Spirit, teaching them to observe everything that I have commanded you. And remember, I am with you always, to the end of the age," (Matthew 28:19-20).

The purpose of BBC&TS is as follows: We pledge ...
To provide quality undergraduate and graduate programs of studies that will equip and enhance individuals for the Christian ministry.
Assist students in the development of individualized degree plans to facilitate optimal learning commensurate with their interest and abilities.
To support each student with a highly qualified team consisting of advisors/mentors, faculty members, and administrative staff.
To help prepare individuals to fulfill the scriptures, as 2 Timothy 2:2 says, "What you have heard from me in the presence of many witnesses, commit to faithful men who will be able to teach others also." What BBC&TS accomplishes in the lives of its students has an impact on people that spans throughout eternity.
Once again, we welcome you to Breakthrough Bible College & Theological Seminary and Theological Seminary and pray that you will find the right place to study to prepare for the ministry that God has in store for you - if it is at BBC&TS, we will be blessed to have you as a student and are certain the Lord will bless you at our college and seminary. BBC&TS offers courses and degree programs online and has dozens of locations across the United States and overseas, preparing others to reach the world for Jesus Christ.
---

To ask questions from the staff of Breakthrough Bible College & Theological Seminary, send e-mail to Dr. Anthony T. Mays: atmpwr@yahoo.com
© 2014, All rights reserved, Breakthrough Bible College & Theological Seminary and Theological Seminary, P.O. Box 1436, Forestville, MD 20747
Phone: (240)-273-3261: (301)836-5570